Best Gyms in Koramangala for the Gravity Fitness Gym
Fitness enthusiasts in Bangalore, this article is tailored just for you. We've curated a concise yet highly useful list of the finest fitness centers in Bangalore to assist are you residing in a Pg nearby Koramangala Bangalore
Gravity Fitness Gym Koramangala and Ejipura
Gravity Fitness Gym is your one-stop fitness hub in Koramangala and Ejipura. Whether you're looking to lose weight, gain muscle, enhance your endurance, or explore the rhythmic world of dance, we have you covered. Are you ready for some sweating? At Gravity Fitness Gym, we believe that sweat is simply the body's way of showing progress. We embrace it, celebrate it, and most importantly, we believe in earning it. Every drop of sweat shed on our gym floor represents a step taken towards achieving personal fitness goals.
Haute Fitness, Sahakara Nagar
This is undoubtedly one of Bangalore's most luxurious fitness centers. Haute Fitness is your go-to place if you're serious about achieving your fitness objectives. With top-of-the-line equipment from leading brands, members often describe Haute Fitness as an enjoyable place to exercise.
As India's first integrated clinical wellness center in Bangalore, Vriddhi Fitness offers a variety of services, including weight loss and gain programs, bodybuilding exercises, cardiovascular workouts, and general fitness exercises.
F45 is all about high-intensity interval training (HIIT). Designed to help you achieve a toned body with their 45-minute functional training sessions, F45 is the place to be. Their certified trainers and meticulously designed workout plans make each session at F45 a blend of fun, enthusiasm, and power.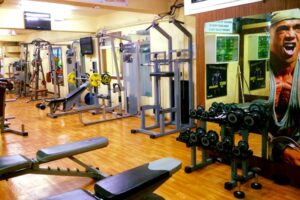 As a branch of a globally recognized leader in the fitness industry, Snap Fitness Bangalore is committed to delivering high-quality services and facilities to its customers. With over 2500 clubs in 1450 locations worldwide, Snap Fitness is highly result-oriented.
Located in JP Nagar, Kaizen Fitness offers a variety of general fitness programs focusing on weight loss, weight gain, functional training, and bodybuilding. They also offer Yoga, Zumba, Aerobics-Jazzercise, and Kickboxing.
Known as the largest gym in HSR Layout, Hammer Fitness is worth a visit. In addition to providing fitness services, Hammer Fitness aims to deliver the right solutions to individuals seeking to achieve and maintain a fit lifestyle.
Power World Fitness Gyms are among the most budget-friendly gyms. They offer a variety of programs, including weight loss and gain programs, bodybuilding exercises, cardiovascular workouts, and general fitness exercises.
We Fitness focuses on providing result-oriented, high-quality holistic fitness programs. Here, you can choose from a wide range of activities, including machine workouts, Zumba, yoga, cross-functional training, and even swimming.
Invictus Athletic Club is one of the best-equipped gyms in Sarjapura main road. They have a fantastic collection of equipment from top brands and excellent trainers who guide you through every step of your fitness journey.
Lotus Sports & Fitness, JP Nagar
Lotus Fitness is one of Bangalore's largest gyms. They offer a wide array of activities for members to choose from, including functional training, HIIT, yoga, Zumba, and swimming.